Welcome to
Hotel Zenit Barcelona
, search and book your room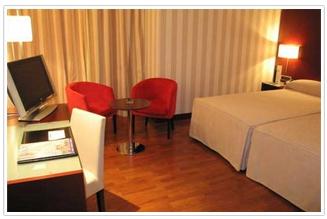 The Hotel Zenit Barcelona is a modern 4 star hotel located in the popular Turó area of Barcelona. It is ideally situated in the centre of the business and shopping districts, only a few minutes away from the Plaza Catalunya and las Ramblas of Ciudad Condal.

The Zenit Barcelona offers 47 spacious double rooms and 24 comfortable singles rooms. All 71 rooms were recently remodelled and are fully air conditioned to guarantee our guests' comfort.

Rooms are equipped with all services including; private bathroom with hairdryer, satellite TV, direct telephone, complimentary WiFi, safe, and mini bar. Guests are welcome to pick up a free newspaper at the reception.

The hotel is not presently equipped with meeting rooms for our business guests, however our staff will be more than willing to assist you in finding the proper accommodations to host your event in the nearby area.

Guests can enjoy an abundant breakfast buffet every morning at our Mediterrània Restaurant, which serves a variety of local and international dishes.
Whether you are in Barcelona for business or pleasure, you are sure to be comfortable at the Hotel Zenit Barcelona.
Give us your Feedback
Hotel Zenit Barcelona, C/Santaló, 8 - Barcelona
BarcelonaHotels.it
Copyright © 2009 - 2020 | P.IVA# 03458490277